Businesses today require a new approach to cybersecurity
General description
Threat intelligence
user security
Secure networks
Application security
Network operations
Security operations
Open ecosystem
General description
Broad.

Integrated.

automated
The Fortinet Security Fabric brings together the concepts of convergence and consolidation to provide end-to-end cybersecurity protection for all users, devices, and applications, and at all network edges.
Cybersecurity Mesh Architecture (CSMA) is an architectural approach that promotes interoperability between different security products to achieve a more consolidated security posture. The Fortinet Security Fabric reduces operational complexity while ensuring compliance, emphasizes interoperability as well as analytics, intelligence, centralized management and automation, and integrates with a broad ecosystem of technologies and vendors.
Threat intelligence
user security
Secure networks
Application security
Network operations
Security operations
Open ecosystem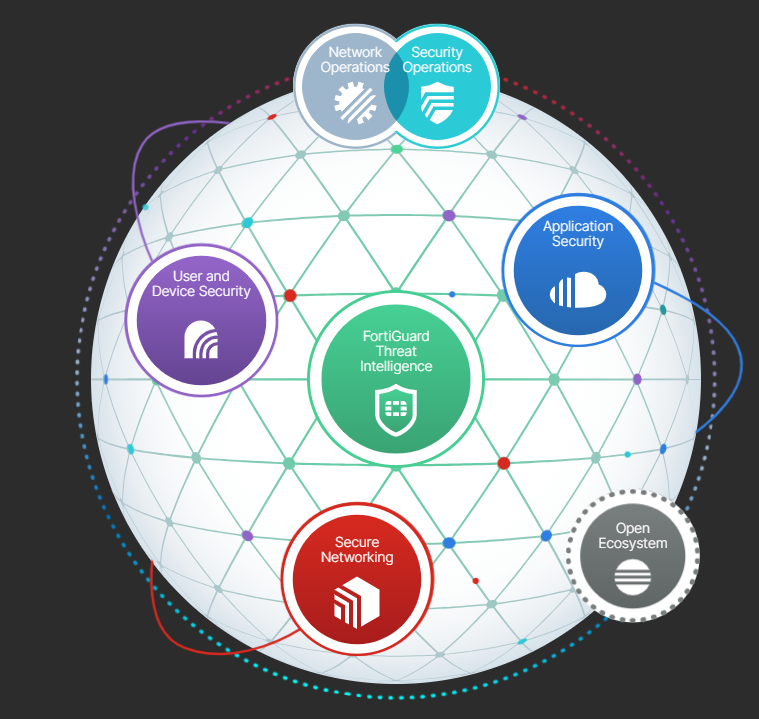 Businesses today require a new approach to cybersecurity
Fortinet offers the most comprehensive solutions to help industries accelerate security, maximize productivity, preserve the user experience, and lower total cost of ownership.
SCADA/ICS
Fortinet's solution integrates OT security solutions with the best threat protection for corporate IT environments that extend from the data center to the cloud to the network perimeter.
K-12 school districts
Enable digital learning resources while ensuring physical and digital network security, and K-12 school districts are rapidly transforming their networks to implement eLearning.
Higher education
College campuses are centers of innovation in many areas, and IT is no exception. Advanced research and smart campus initiatives provide educational opportunities.
Pharmacist
The pharmaceutical industry is made up of several sub-industries, all with different business models, technology requirements, and growing attack vectors.
Financial services
The financial services industry is a high-value target for cyberattacks and is highly regulated by jurisdictions around the world.
Health care
As healthcare technology becomes more advanced, mergers and acquisitions and growing partnerships between organizations further complicate the sprawling infrastructure.
Manufacturing
Global OT systems around the world are bombarded with recycled IT based attacks and specially crafted OT exploits.
Hospitality
Hospitality organizations must also comply with the Payment Card Industry Data Security Standard (PCI DSS). Unlike retail providers.
Technology
The best security solutions that not only scale to meet your unique challenges, but are also able to adapt quickly to these fast-growing organizations.
communication
The growing importance of 5G and its underlying technology are also expanding the attack surface and making it an attractive target for a wide range of threat actors.
All industries
Fortinet is proud to serve hundreds of thousands of customers in all industries, around the world. From Secure SD-WAN to AI-powered security operations and secure remote work.
Retailers
Today's retail industry is a common target for cybercriminals, and many retailers have been in the news as victims of data breaches in the past.
Fortinet Technology Services
Learn how Fortinet's Next Generation Firewall (NGFW) products can provide high-performance, consolidated security.
Learn what Secure SD-WAN is and how it combines networking with security without compromise!
Secure Access Service Edge (SASE)
Cloud-based security for work from anywhere and remote access enables secure internet access, secure private access.
FortiGuard IPS security services provide advanced, high-performance threat protection.
A secure web gateway protects against web attacks. Fortinet's SWG solution is based on the latest intelligence and technology to support.
Secure Zero Trust Network
Find out how Zero Trust Network Access (ZTNA) works and provides better access control for your applications. Fortinet FortiOS 7.0.
AI-based sandboxing helps combat previously unknown threats such as ransomware, crypto-malware, and many other FortiSandboxes.
FortiClient Fabric Agent integrates endpoints into the Security Fabric and provides endpoint telemetry, including user identity.
FortiAP wireless access points offer the most secure wireless offering in the industry by integrating with our next generation.
Fortinet email security solutions provide protection for your critical business information. Learn how to send secure email.
Enterprise Management & Analytics
Network Security Management and Analytics provides simplified network orchestration for hybrid environments.
The FortiWeb web application firewall provides advanced capabilities to defend web applications and APIs from known and zero-day threats.
Fortinet Private Cloud Security is the best threat protection in a Virtual Next Generation Firewall (NGWF).
Cloud Access Security Broker
FortiCASB is the industry leading cloud access security broker solution designed to provide visibility and data security for SaaS.
FortiSlEM – Fortinet's SIEM solution offers organizations advanced threat protection. Explore more about information security.
FortiADC is an advanced Application Delivery Controller and Global Server Load Balancer (GSLB) that secures and optimizes applications.
Cloud Access Security Broker
DDoS attacks are constantly evolving. FortiDDoS offers an advanced DDoS protection solution for data centers.
Network Access Control (NAC) is a security solution that gives users better visibility of the Internet.
Fortinet Firewall Equipment
FortiGate NGFW is available in many different models to meet your needs, from entry-level hardware appliances to ultra-high-end appliances to meet the most demanding threat protection performance requirements. This ensures that the enterprise campus, central data center or internal segments, FortiGate is a perfect fit for your environment.
For additional information, you can compare vendors and learn more about network firewall pricing or compare products.
Contact us to provide you with better advice