Thermographic temperature detection solutions
The biometric-based facial technology already has new equipment to detect the temperature of people in nanoseconds in places with crowds (airports, soccer fields, hospitals), as well as facially recognize people even with masks.
It is a known fact that lessons are drawn from all crises.
In the case of this pandemic that is practically on the verge of the entire planet, we will have learned a lot once it ends but, since science knows that viruses have an admirable capacity for adaptation and survival, it is expected that COVID 19 will return, as every
winter the flu returns with modified strains.
High demand thermal detector
It is a high-speed biometric access control terminal, which allows identification, even with the use of a mask, and incorporates body temperature detection and palm recognition.
This system is perfect to help reduce the spread, it consists of a facial recognition terminal, Palm, Fingerprint and high speed temperature, as well as mouth cover detection (Detects if it is incorrectly placed), it has a facial recognition system in
3D that prevents photo or video from being used to trick the device from easy installation and configurable from the software itself.
Full Features

Temperature measurement from 34 to 45 C

Temperature measurement at 30 to 50 cm

1 to 3 meter facial recognition

Palm recognition at 30cms approx.




5 inch touch screen

Capacity of 10,000 users

Capacity of 6,000 faces

3,000 palm capacity

10,000 fingerprint capacity

Detection of mouth covers

Memory of 200,000 events

Low consumption 12vdc and 3Amp

Access control function

BioTime Pro / ZKBiosecurity software support
Price
$1800 + ITBMS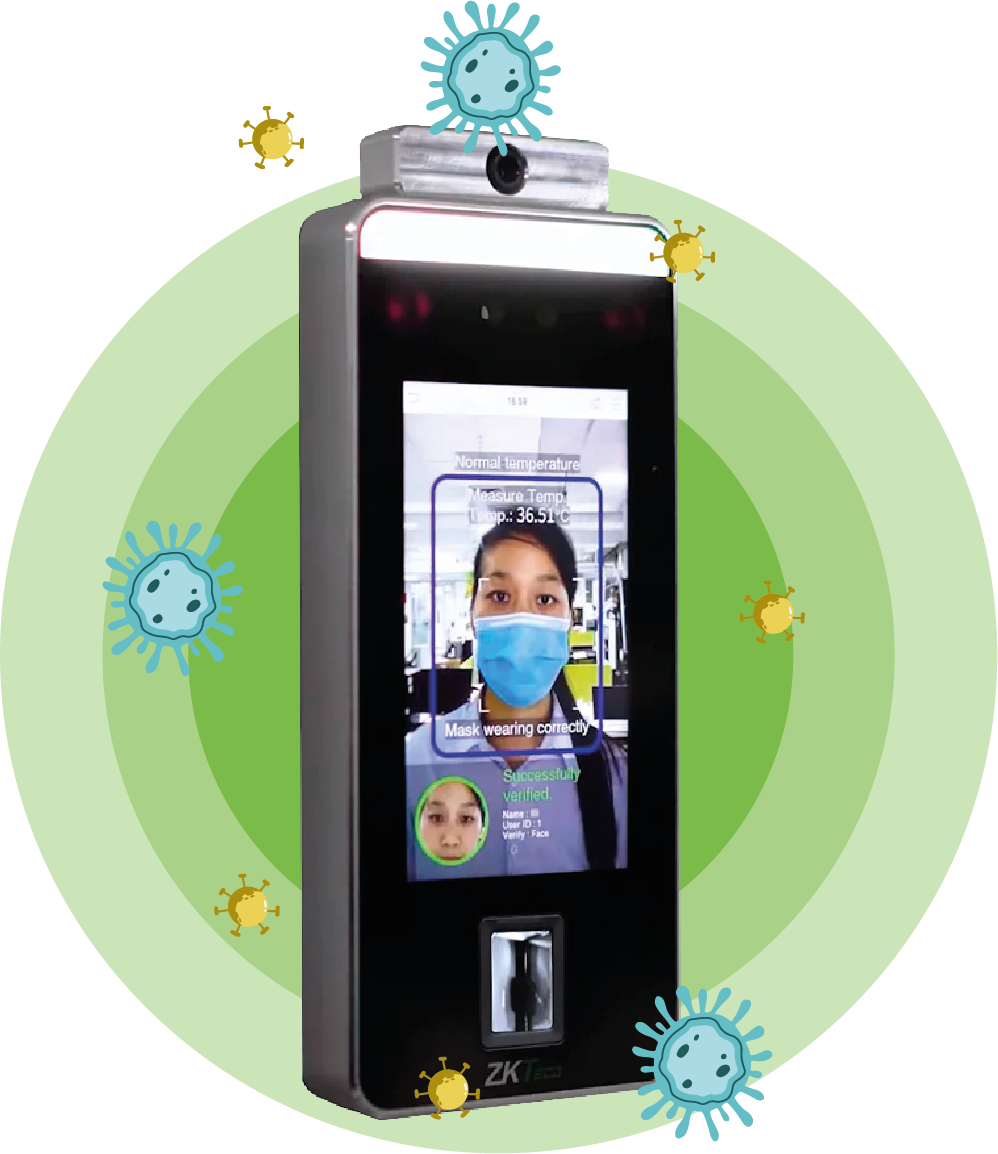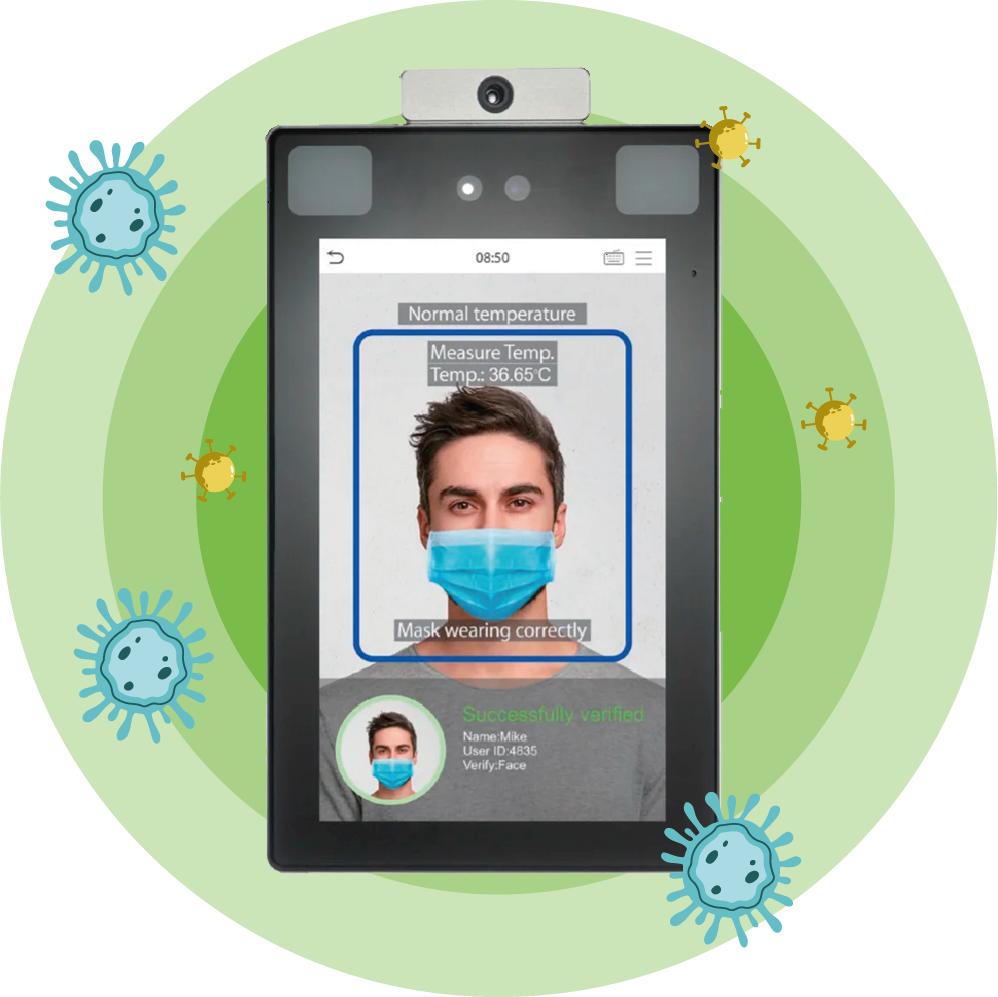 MULTIBIOMETRIC TERMINAL PROFACE X [TD] (FOR WALL)
Face Verification Terminal, Palm and Temperature Detection, as well as mouth cover detection (mask), with visible light technology
Detailed Features
Temperature measurement from 34 to 45 C
Thermographic precision 0.3 C
Temperature measurement from 30 to 50 cm
Face recognition distance of 1 to 3 meters
Remote adjustable visible light technology
Palm recognition 30 cms
Recommended measurement 1.5 meters
8 inch touch screen
Reading capacity of 50,000 users
Reading capacity of 30,000 faces
5,000 palm reading capacity
Detection of mouth covers
Memory of 1,000,000 events
2Amp 12VDC power supply
Indoor or outdoor use
Protection level IK04 & IP68
Access control function
BioTime Pro / ZKBiosecurity software support
Price
  2100 + ITBMS
METAL DETECTOR ARC WITH TEMPERATURE METER
Metal Detector with Temperature Detection, 18 zones of interconnected metal detection in different areas and alarm simultaneous multiple zones, with built-in body temperature meter
Detailed Features
Temperature measurement from 30 to 45 C
Temperature measurement at 15 cm
Measurement at 1.5 meters
Interval between 2 measurements: 2 seconds
Temperature measurement time 1 second
Forehead or wrist temperature measurement
IR temperature sensor
Sound and visual alarm in equipment
18 zone metal detector
Adjustable metal detection
External dimensions 2220mm (H) X 835mm (W) X 578mm (D)
Internal dimensions 1990mm (H) X 700mm (W) X 578mm (D
Power: AC100V ~ 240V
Gross weight 65kgs
Price
  2400 + ITBMS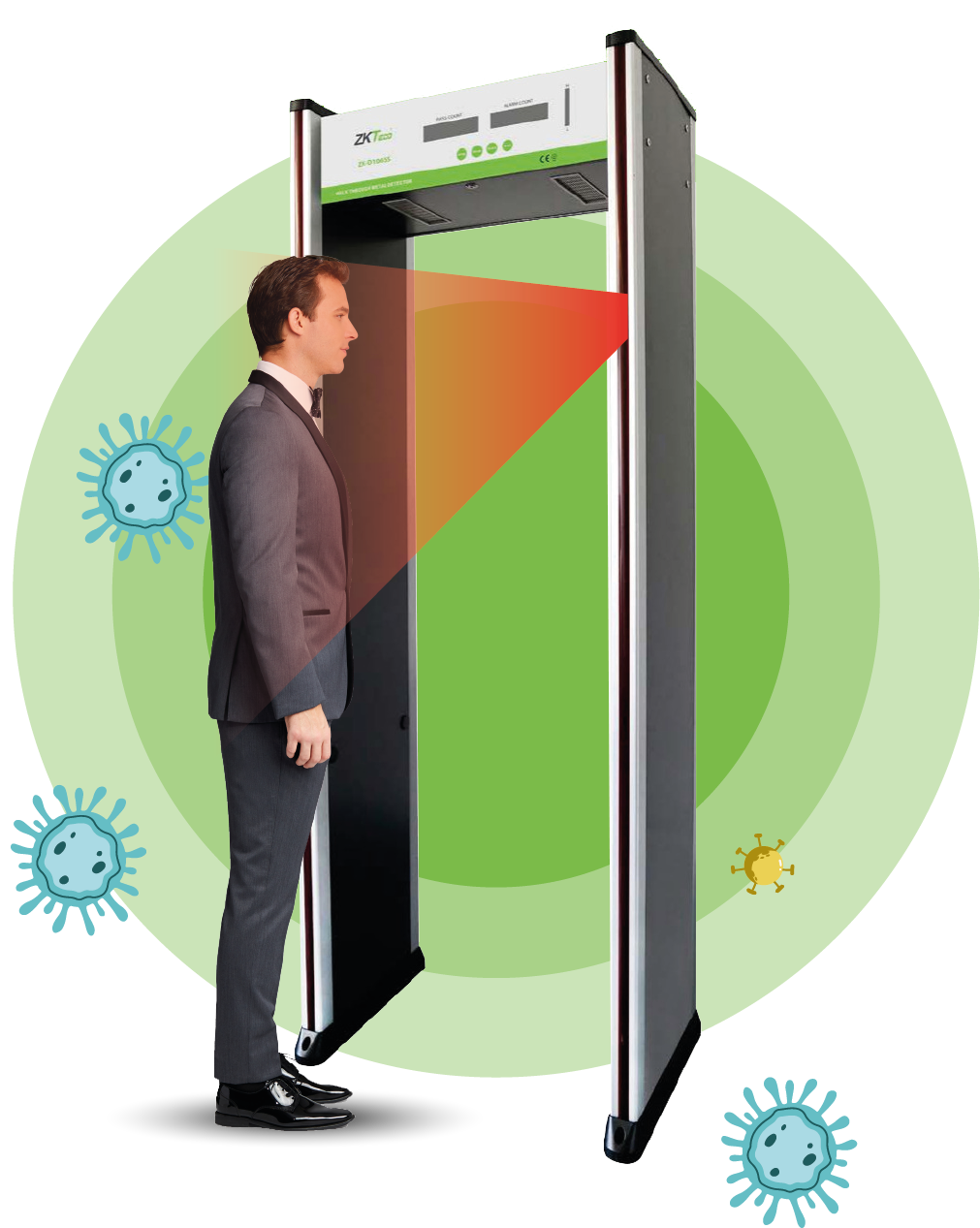 Contact us for more information and advice